10 Surprising Stats About U.S. Health Insurance

Despite spending the most amount of money on healthcare among the developed nations, the United States is not included in the list of top 10 best healthcare nations in the world. It stands 30th on the healthcare index ranking published by Numbeo. Other nations like Taiwan, Thailand, and New Zealand are way ahead. But do the healthcare rankings justify the reality of the situation in the country? To shed some light on the situation, I have collected a few stats about U.S. health insurance.
Here are 10 Surprising Stats about U.S. Health Insurance
1. In 2018, 296 million(out of 327.2 million) people in the United States had some sort of health insurance.

Find more statistics at Statista
2. Nearly 75 million Americans were estimated to be enrolled in the Medicaid program as of 2018, which is a significant increase from around 48 million only ten years prior.
3. The U.S. has the highest expenditure on health care per capita globally. One-third of all health expenditure is paid by private insurance.
4. Among the Organization for Economic Cooperation and Development (OECD) member countries, the United States had the highest percentage of gross domestic product spent on health care as of 2017. The U.S. spent more than 17 percent of its GDP on health care services than Switzerland, France, and Germany.
5. Medicaid spending in the United States is highest in California and New York. There were about 12 million Medicaid enrollees in California and 6.5 million enrollees in New York as of May 2018.

Find more statistics at Statista
6. In 2018 over 20 percent of the Hispanic population in the United States had no health insurance. Asian Americans had the lowest rate of uninsured persons at 7.1 percent, white Americans came in at 7.8 percent, and 12.2 percent of Black Africans had no form health insurance at all.
7. In 2018, UnitedHealth Group Inc. was the market leader with a 14.1 percent share of the U.S. health insurance market. Anthem Inc and Humana Inc followed after with a market share of 9.2 percent and 7.8 percent respectively.
8. According to the Center for Disease Control and Prevention in 2018, 30.1 million people under the age of 65 were uninsured during the time of the interview.
9. According to the United States Census Bureau, in 2017, the percentage of uninsured children under the age of 19 (5.4 percent) was not statistically different from the percentage only 3 years prior in 2016.
10. In 2018, approximately 30.4 million people in the United States had no health insurance. The situation was worse in the year 2015 but is now getting better since then as a result of the Tax Cuts and Jobs Act of 2017.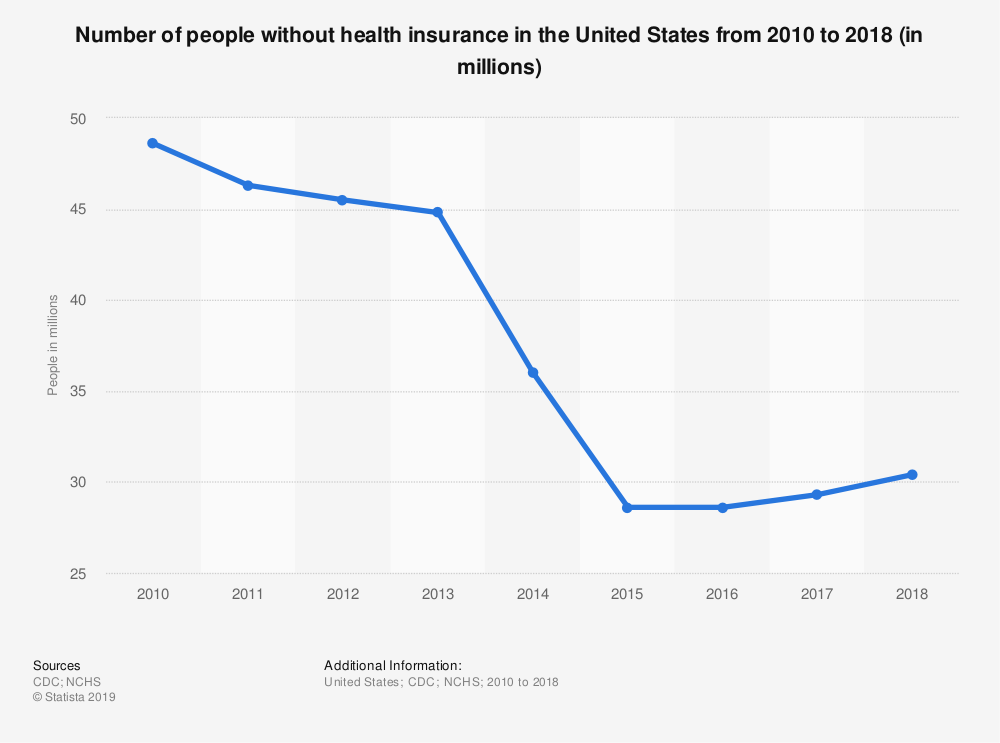 The Bottom Line
Some of these numbers may seem a bit disheartening. There are still many in the U.S who cannot afford to purchase health insurance. But, as of 2019, the situation is changing. Trump administration has made some modifications to the already existing plans and also have made some key additions. According to CNN, Trump has made it easy for Americans to access policies with lower premiums in exchange for fewer protections and benefits, however this is not the benefit it seems to be. These insurance policies are often not widely accepted and end up being more trouble than they are worth. ObamaCare was a much better plan than that put forward by the Trump administration and deserves careful consideration.