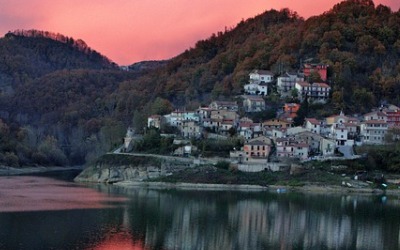 MSMomsmoney asked in a recent comment if I would detail our expenses for the Italy trip. I'm missing whatever my husband spent on daily expenses since I don't know that amount and he's busy right now. (I'd guess about $250 total for him though.) I also did not add in what we spent on clothes due to the luggage incident, since hopefully we will be getting that money back. Fingers crossed. This should give a fairly decent breakdown.
Transportation – $3617.76
– Taxi money (to and from our local airport) – $30.00
– One-way flight to New York on Delta – $418.20 for 3 people. Surprisingly this came out cheaper than buying round trip tickets, which almost never happens.
– Flight from New York to Rome and then Venice to New York via Rome on Alitalia – $2533.41 for 3 people. We bought at the beginning of February for our late July/early August trip, and many of the flights were already sold out.
– One-way return flight from New York on JetBlue (3 people) – $328.20. JetBlue is my new favorite airline, by the way.
– 2nd class train tickets from Rome to Venice (3 people) – $307.95
Daily expenses – $892.74
– Spending money in Rome: $275.03. This amount is only for me & my son. It covered meals, Roma passes, and lots of gelato.
– Spending money in Venice: $286.80. In Venice we spent the most money by far on passes for the water buses. This also covered meals, admission to the Doge's palace, admission to a museum, and the ever-present gelato.
– Opera tickets for 3 at Caracalla – $118.73
– Souvenirs – $212.18. I bought some postcards, a poster & wallet for my son, and a purse(!) and 2 pieces of Murano glass for me.
Lodging – $1700.44
– Rome apartment – $1154.16
– Venice apartment – $546.28
Miscellaneous – $654.84
– Italian-English dictionary – $8.57
– Electrical adapters – $23.00
– Money holder – $12.95
– 14mm rectilinear lens rental – $116.75
– Travel alarm clock – $25.38
– Books for plane – $33.19 (plus I brought library books too)
– Indoor boarding for our very large dog – $410.00
– Gift for the person who took care of our cats – $25
See Also
That gives a grand total of…$6865.78 or $2288.59 per person for the 10 days. I'd originally guesstimated $6000 total, which wasn't that far off considering I hadn't counted any of the miscellaneous expenses as part of the trip total before. I decided to count them now though since we would not have incurred any of those expenses if we hadn't taken the trip. Basically we paid for half the trip in February, and then the other half after we got to Italy.
It's certainly possible to go to Europe from the U.S. for less than this, especially if you live on the east coast and like to stay in hostels or in people's homes. (Which I've done many times.) We enjoyed having our own apartments to stay in this time and playing tourist. (Ok, maybe I shouldn't say "playing" — we were tourists!) Even considering the horrific exchange rates, it was the first time that I've ever been to Europe where I actually felt like I had enough money for what I wanted to do without worrying or having to make choices like "Do I want to eat lunch or supper today?" or "Would I rather have bus fare for the month or ride a borrowed bike & attend a concert?". We saved for an entire year for this trip. I'm happy we went, and look forward to our future trips.