Why Use TLT Stock to Hedge Against Falling Stock Prices?
TLT is the Nasdaq symbol for the iShares 20+ Year Treasury ETF. Bond ETFs, or exchange-traded funds, trade daily on the stock market. But because you're buying shares of United States government bonds, you're hedging against falling stock prices.
What Is TLT Stock?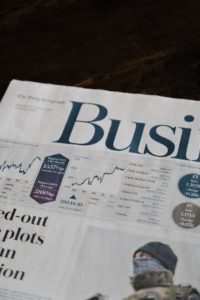 Image via Unsplash by anniespratt
TLT stock makes the rankings of one of the best government long bonds on lists such as the one put out by U.S. News and World Report. When you buy a share of an ETF like TLT, you're actually buying a share of each of the ETF's held assets. You'll receive dividends and interest from these assets, too, just like direct investors in these assets do.
An ETF is structured like a mutual fund in that it tracks a particular index. The TLT tracks the ICE U.S. Treasury 20+ Year Bond Index, which measures the performance of United States Treasury public obligations with a remaining maturity of 20 or more years, as its underlying index. TLT invests around 90% in that underlying index and about 95% in United States government bonds.
The Relationship Between Interest Rates and TLT
Long government portfolios are thought of as safe investments, but (like any investment) they still come with some risk. These portfolios have longer durations, so they're more sensitive to interest rates than portfolios with shorter durations.
In the United States, the Federal Open Market Committee, or FOMC, can send bond prices either higher or lower. When the interest rates rise, bond prices fall; on the other hand, when the FOMC reduces interest rates, the price of bonds tends to rise. This is because bonds have yields of cash flows. Bonds that have lower yields also usually have lower prices. The further away the maturity date is, the higher the yield as there's more risk over the long term.
When Should You Trade TLT Stock?
Because long government portfolios keep at least 90% of bond holdings in bonds that the United States government or government-linked agencies backs, these portfolios minimize risks. After all, the United States government isn't likely to default on debt.
ETFs give you a good way of gaining exposure to the bonds market while at the same time giving you the same transparency that you would get from the stock market. Bond ETFs also let you gain exposure to the benchmark bond index in a fairly inexpensive manner.
In general, if you think interest rates will go up in the future, you'll want to stay away from long-term bonds that could get you locked into a lower interest. If you think interest rates are going to fall, you could look to these types of investments.
TLT Stock as a Hedge Against Stock Downturns
A high correlation historically exists between falling stocks and investors moving to the safety of Treasury bonds. While it's not a perfect inverse relationship, the TLT provides a hedge for a downturn in the stock market. Since this ETF has a concentrated basket of Treasuries, it offers a vehicle sensitive to interest rate changes that tends to do well when the stock market is performing well.
The TLT offers the transparency of the stock market while still giving you exposure to a benchmark bond index.